The all new Charts&Tides for iOS 7 is now available for
FREE download
in the App Store.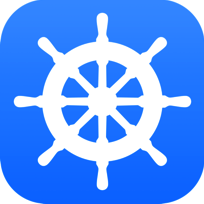 This latest version is a complete overhaul over prior versions. It has been designed with iOS 7 in mind and has an interface that is clean and intuitive. Despite its apparent simplicity it has a large feature set that is on par with the desktop version of Charts&Tides!

Here is some of the functionality offered in this release:

Provides continuous and seamless large area charts derived from NOAA and CHS vector cartography.
Shows tide levels and current speeds on the chart using easily interpreted icons. Allows you to judge the water situation around you with a single glance.
Integrates with the ActiveCaptain interactive cruising guidebook providing you with access to thousands of marinas, anchorages, hazards and other local knowledge.
Stores the entire ActiveCaptain database offline so that it is always available to you, even without an Internet connection.
Allows you to instantly search thousands of chart features and the ActiveCaptain database.
Supports waypoints, routes, tracks and allows you to import and export them in GPX format. Route navigation with automatic waypoint sequencing is also supported.
Supports multiple options for navigation. You can use your device's built-in GPS or connect to an external GPS via Bluetooth or Wi-Fi. You can also use dead reckoning mode.
Supports external AIS devices and performs Closest Point of Approach (CPA) computations.
Comes with a dark UI that looks good during the day and will preserve your night vision when it is dark.
The software is a
FREE download
, but does not come prepackaged with any detailed marine charts. You can purchase detailed marine charts from within the application. Currently there are charts for US and Canada available. You can also use the software without purchasing additional charts.