Features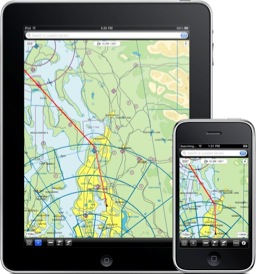 Aero Charts combines VFR+IFR charts and direct-to navigation in an easy to use and versatile package. At a fraction of the price we offer features normally found on aviation GPS devices that are worth hundreds or thousands of dollars! Created by an enthusiastic aviator with airplane, seaplane and helicopter ratings, including an instrument airplane rating.
Some of our reviews:
Tested the app today via maneuvers at 9500 and I am happy to say it performed absolutely fine with no loss of redundancy detected what so ever. You are to be complimented with this outstanding piece of work Sir. - Mr. Samuel
I fly a photographer around the Chicago area and downloaded your software just minutes before flying around O'Hare and Midway airports. I was able to navigate through this area more simply then ever before because of your software! I use the GPS in the aircraft but your moving map gives me so much more information at the touch of a finger. - Jeff Little
Our features in detail:
Our charts are vector charts that are derived from official FAA data and other government sources. The information on the charts includes Class B,C,D,E Airspace (including Special Use Airspace), Airways, Fixes, Holding Patterns, Navaids, Airports and Hypsography. We preprocess the data to make it continuous (i.e. no more having to flip sectionals) and to ensure consistency.
The full chart database is included in this download, so you will always have it with you. You will not need a 3G or WiFi connection to access our charts. [Please note: this excludes Airport Procedures/Diagrams, which are accessed online; we have chosen to not include the diagrams in the offline database because they would make the download size prohibitive.]
You can move, zoom or rotate the chart using your fingers. Our chart looks great at any scale and rotation because we use vector chart technology.
Our chart is rendered using VFR and IFR colors and symbology that is derived from NACO's official symbology.
You can search for any feature (Airport, Navaid, place, etc.) using the search bar at the top.
To get additional information about a feature of your interest just tap on it. This information includes FAA notes, Airway MEA's, and Navaid and Airport Communications.
To measure the distance and find the bearing between any two points use the "ruler" tool.
Our software will track your aircraft's location, speed and track using the iPhone's built-in location services. It will also record your aircraft's past track for the last 12 hours. [Please note: the application must be running to properly track an aircraft's location.]
You can navigate to your waypoints using a Horizontal Situation Indicator (HSI) instrument. To see the instrument press the "PAGE" button. The instrument shows in a graphical manner your aircraft's heading (red arrow) as well as the desired track and cross track error (yellow arrow) when navigating to a waypoint.
You can add, edit and delete waypoints. Hold finger over chart to add a new waypoint.
For a more detailed presentation of our features see our
User Guide
.